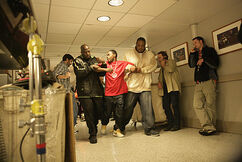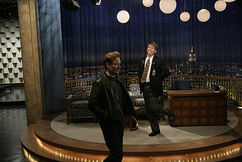 TWO STARS ARGUING OVER A COVETED APPEARANCE ON "LATE WITH CONAN O'BRIEN" PUSH LIZ LEMON TO THE EDGE — Jack Donaghy bumps Jenna Maroney's scheduled appearance on "Late Night with Conan O'Brien" by booking new star Tracy Jordan. Jenna, still irate over watching the show change to "TGS with Tracy Jordan," lashes out at Liz. To make matters worse, Tracy's gone off his medication and he's about to go on national television. Will Kenneth the Page fulfill his quest of finding Tracy's prescription and control his erratic behavior? Will Jenna have a nervous breakdown? And will Liz ever break up with Dennis? [1]
Jack: Conan, Tracy's really excited to be back on your show.
Conan: I don't know. He's kind of a loose cannon, and I like to surround myself with people who don't try to stab me.
Jack: Well, Tracy's feeling a lot better now. He's under a doctor's care.
Conan: That's what they said about Hasselhoff, then he tried to make out with me during a commercial break.
Jack: Conan, this is important to me. So, we can either do this the easy way or the hard way.
Conan: What's the hard way?
Jack: You do a live Christmas Eve special from Kabul every year until the War on Terror is won.
Conan: Tell Tracy I'll see him tonight, you Black Irish bastard.
Jack: Back at you, red.
---
:
Liz
: Why are you wearing a tux?
Jack: It's after six. What am I, a farmer?
Pop Culture
Edit
In this episode Tracy takes the identity of Chewbacca, who is a character of Star Wars.
The trucker hat Frank wears in this episode reads "Bigfoot Expert".
This episode doesn't have a cast listing yet. Please add one!
Guest Starring
Edit
Co-Starring
Edit
External Links
Edit
This episode doesn't have external links yet. Please add one!
References
Edit
↑

NBC Press Release – Thursday, December 7, 2006
Season One

Episodes

Season Two

Episodes


Season Three

Episodes