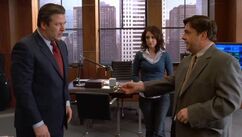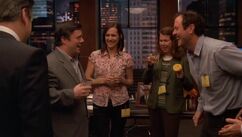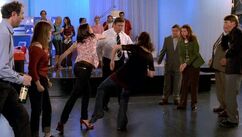 JACK WELCOMES HIS BROTHER EDDIE INTO THE 'TGS' FAMILY — Jack helps his down-and-out brother Eddie with a job at 'TGS' but can the staff handle two Donaghys? Meanwhile, Liz, forced to make staff cutbacks, wonders if axing NBC lawyer Floyd's girlfriend, Other Liz would look desperate. Tracy seeks spiritual fulfillment at his lawyer's request with the aid of Kenneth the Page. [1]
---
:
Tracy
: I believe that the moon does not exist. I believe that vampires are the world's greatest golfers but their curse is they never get a chance to prove it. I believe that there are 31 letters in the white alphabet.
Pop Culture
Edit
In reference to choosing whom to fire, Liz declares," I'm the decider!," playing on George W. Bush's statement about his decisions concerning the Iraq War.
The trucker hats Frank wears in this episode reads "Doppel Ganger" and "Liz Rocks".
Guest Starring
Edit
Co-Starring
Edit
External Links
Edit
This episode doesn't have external links yet. Please add one!
References
Edit
↑

NBC Press Release – Thursday, March 8, 2007
Season One

Episodes

Season Two

Episodes


Season Three

Episodes