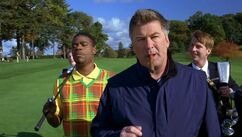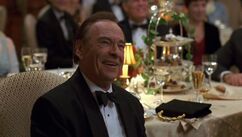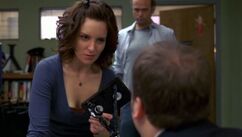 LIZ WORKS OVERTIME TO PROVE TO HER WRITERS THAT SHE'S A GOOD BOSS IN A SUPER-SIZED "30 ROCK" — After being a bit harsh on Lutz in the writer's room, Liz overhears him criticizing her iron-fisted management. Realizing she has to be more lenient with her staff, Liz adopts a more lax leadership style. Meanwhile, Jack takes Tracy along to an exclusive GE charity golf event, but Jack's hope of using Tracy to get closer to Don Geiss, the GE CEO may backfire when Tracy acts a little too much like his uncensored self amongst the corporate big wigs. [1]
Jack: I've asked Tracy to join me at G.E. Golf tournament in Connecticut.
Liz: Was Courtney Love not available?
---
Tracy: Damn straight. I'm delightful.
Pop Culture
Edit
This episode doesn't have pop culture yet. Please add one!
The trucker hats Frank wear in this episode read "1,000,000 POINTS" and "UFO Cop"
Ken Eluto was nominated for a 2008 Eddie Award in the Best Edited Half-Hour Series for Television category for his work on this episode.
The main plot of Liz being called the 'C-word' is based on it actually happenning to Tina Fey.
The cleaning woman in the writers office is also Elisa's mother.
Starring
Edit
Guest Starring
Edit
Darlene J. Camille - "Designing Woman" Voice-Over
Kevin Miller - Himself
Co-Starring
Edit
External Links
Edit
This episode doesn't have external links yet. Please add one!
References
Edit
↑

Thursday, February 15, 2007
Season One

Episodes

Season Two

Episodes


Season Three

Episodes