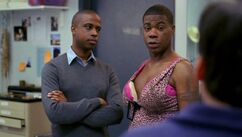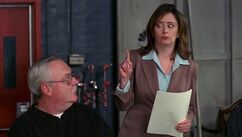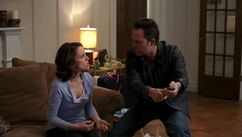 LIZ FINALLY CALLS IT QUITS WITH DENNIS WHILE PERSONAL POLITICS PIT TOOFER AGAINST TRACY — Finally fed up with the boorish antics of her beeper salesman boyfriend Dennis, Liz sends him packing and attempts to hit the New York singles scene under the guidance of Jenna. Meanwhile, Jack deals with his own relationship woes, as he discovers dating a high-ranking official in the Bush Administration may be more difficult than he first thought. The war of words between Toofer and Tracy escalates, forcing some much-needed sensitivity training for the two cast members. [1]
[Man walks up to Liz at the bar]
Gentleman:Excuse me, is this seat taken?
Liz: [sighs] Really, dude? I got to move my coat? There are like four empty seats over there - can't you just be cool?
[Man leaves]
Jenna: That guy wanted to buy you a drink!
Liz: Really? But I already have a drink. Do you think he'd buy me mozzarella sticks?
---
Dennis: [Reading from a letter] Dear Liz Lemon: While other women have bigger boobs than you, no other woman has as big a heart. When I saw you getting ready to go out and get nailed by a bunch of guys last night, I knew for sure it was over between us, and for the first time since the '86 World Series, I cried… I cried like a big, dumb homo. And if it was up to me, we'd be together forever. But there's a new thing called "women's liberation," which gives you women the right to choose and you have chosen to abort me, and that I must live with. So tonight, when you arrive home, I'll be gone. I officially renounce my squatter's rights. Goodbye and good luck. I'll never forget you.
Pop Culture
Edit
This episode doesn't have pop culture yet. Please add one!
The trucker hats Frank wears in this episode read "Over Easy," "E.S.P. Tutor," and "Kung Fu Beech."
Scott Ellis was nominated for an Outstanding Direction for a Comedy Series Emmy due to his work in this episode.
Toofer mentions Chris Rock as one the black actors who don't do drag (along with the cast of Black Frasier). Chris Rock actually dressed in drag on Fresh Prince of Bel-Air.
Guest Starring
Edit
Co-Starring
Edit
External Links
Edit
This episode doesn't have external links yet. Please add one!
References
Edit
↑

NBC Press Release – Thursday, December 14, 2006
Season One

Episodes

Season Two

Episodes


Season Three

Episodes