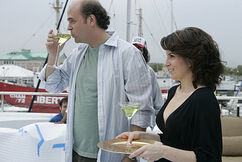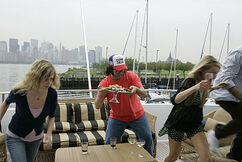 ONE ERRATIC STAR (TRACY MORGAN), ONE NEUROTIC STAR, AND A MEDDLESOME BOSS CREATE PANIC IN THE WRITERS ROOM — Liz Lemon must now face her writers and keep "The Girlie Show" from falling apart as her new boss, Jack Donaghy forces creative changes to her show and the writing staff and cast learn how to deal with new star Tracy Jordan's antics. But, despite, his erratic behavior, Tracy may be the one who unexpectedly pulls the cast and writers together. [1]
[Jenna and Liz are discussing actor Tracy Jordan.]
Liz: How you doin'?
Jenna: There is no way that I am working with that guy. Do you know that he once got arrested for walking naked through LaGuardia?
Liz: Yeah.
Jenna: And that he once fell asleep on Ted Danson's roof?
Liz: Yeah, Tracy has mental health issues.
Jenna: He bit Dakota Fanning on the face.
Liz: When you hear his version, she was kinda askin' for it.
---
Tracy: So, how you doing over there, Theo Huxtable.
Toofer: I'm doing good.
[Tracy leaves the room.]
Frank: [to Toofer] Wow, that was embarrassing for you.
Pop Culture
Edit
Tracy refers to Toofer as "Theo Huxtable", one of the characters on The Cosby Show.
Frank's trucker hat says "Done Deal."
When Alec Baldwin's character is being quizzed on his employees' names, he is really being shown the same picture over and over.
Guest Starring
Edit
Co-Starring
Edit
External Links
Edit
This episode doesn't have external links yet. Please add one!
References
Edit
↑

NBC Press Release – Wednesday October 18, 2006
Season One

Episodes

Season Two

Episodes


Season Three

Episodes