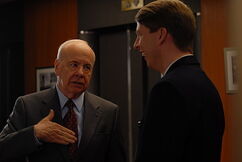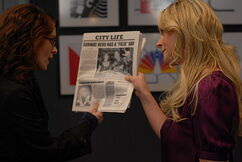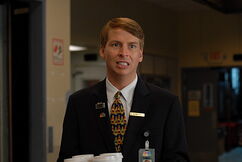 Jack wants Liz to book "The Subway Hero," New York's newest celebrity, who jumped in front of a train to save a total stranger who had fallen on the tracks. It turns out that the hero is none other than Liz's ex boyfriend, Dennis, "The Beeper King." Dennis agrees to do the show, and tries to win Liz back into his life. Meanwhile, Jack wants to find a young and hip Republican celebrity for the weekend's John McCain fundraising dinner, but the only talent he is able to secure is Bucky Bright, a TV star from the 1940s and 1950s. Though Jack rejects him, Kenneth is a fan and offers him a tour of the studio, which rewards him with many stories of old Hollywood. Meanwhile, Jack tries to persuade Tracy to become the celebrity face of the Republican Party.
[1]
This episode doesn't have quotes yet. Please add one!
Pop Culture
Edit
A photo in Jack's office shows him shaking hands with North Korean leader Kim Jong-il. This is a reference to the film Team America: World Police in which Kim Jong-il employs Jack's portrayer Alec Baldwin.
John McCain is a Republican senator.
Chuck Norris is an actor known for his martial arts ability and strong conservative leanings.
Mayor Bloomberg plays himself in the TV spot featuring Dennis Duffy.
Rachel and Ross were two characters from the TV show Friends, who had a frequenty on-again-off-again relationship.
Conan O'Brien is a comedian who hosts a late night show on NBC.
The song Tracy is dancing to is "We Didn't Start the Fire" by Billy Joel.
Frank's hat reads "Exactly".
Reception

Edit
"The best episode of the season so far. Why? Because Liz Lemon is treated like the heroine of the story for once and isn't proven wrong. It gives the whole episode a logical feeling. It also helps that Tracy and Jack get together and provide some genuine laughs." - The TV Critic's Review
Starring
Guest Starring
Edit
Co-Starring
Edit
External Links
Edit
This episode doesn't have external links yet. Please add one!
References
Edit
↑

NBC Press Release – April 17, 2008
Season One

Episodes

Season Two

Episodes


Season Three

Episodes