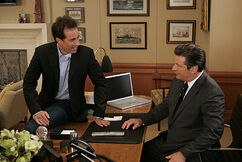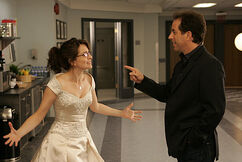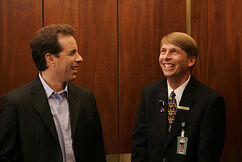 The gang at "30 Rock" returns from their summer hiatus. Liz's excitement to be back and see Jack is quickly squashed when he tells her that despite what she thinks, she is not over Floyd. Jack also tells her about his plan for SeinfeldVision, which entails using NBC-owned footage from Seinfeld's show and inserting him into NBC's current shows. Jerry Seinfeld shows up at Jack's office upset about SeinfeldVision. Meanwhile, Jenna has gained weight over the summer after doing the musical, "Mystic Pizza: The Musical!" and Kenneth becomes Tracy's office wife when Tracy's wife kicks him out. [1]
This episode doesn't have a summary yet. Please add one!
Pop Culture
Edit
This episode doesn't have pop culture yet. Please add one!
Jenna mentions her good and bad eye. In the first episode she states that her sister peed in it.
Tracy tries to help a transvestite go to college. he was doing a similar thing for strippers again in the first episode.
Tina Fey, Alec Baldwin, Tracy Morgan and Jane Krakowski
Guest Starring
Edit
Jerry Seinfeld
Co-Starring
Edit
Jack McBrayer, Judah Friedlander, Katrina Bowden and Maulik Pancholy
External Links
Edit
This episode doesn't have external links yet. Please add one!
References
Edit
↑

NBC Press Release – Thursday, October 4, 2007