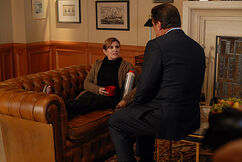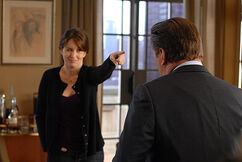 When Liz meets her idol, Rosemary Howard, she invites her to be a guest writer on the show. However, Rosemary's radical ideas that Liz grew up admiring are now too controversial for Liz's NBC show. When Liz refuses to fire Rosemary, Jack pressures Liz, who promptly quits. Jack brings Tracy to a therapist to figure out why he must do the opposite that he is told. Meanwhile, after Jenna ruins Kenneth's page jacket, Kenneth must compete in a page-off in order to keep his job. [1]
This episode doesn't have a summary yet. Please add one! very good
When Rosemary says "Help me Liz Lemon, you're my only hope.", this is an allusion to Carrie Fisher's role as Princess Leia in Star Wars.
When Jack says "Lady, just because I'm an ignorant black man and you paid me a nickel to bust up your chifforobe...", this is a reference to the Tom Robinson character in To Kill a Mockingbird.
This episode doesn't have notes yet. Please add one!
This episode doesn't have a cast listing yet. Please add one!
Tina Fey-Liz Lemon
Alec Baldwin-Jack Donaghy
Tracy Morgan-Tracy Jordan
Jenna Krakowski-Jenna Maroney
Carrie Fisher as Rosemarry Howard
(In reference to the American National Anthem) "Who'd have ever known there was so many words, it was like a Mos Def CD" - Tracy Joran
"I don't need therapy, I'm just mentally ill." - Tracy Jordan
"Never go with a hippie to a second location." -- Jack Donaghy
This episode doesn't have external links yet. Please add one!
↑

NBC Press Release – October 25, 2007
Community content is available under
CC-BY-SA
unless otherwise noted.