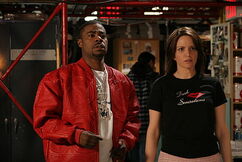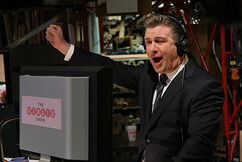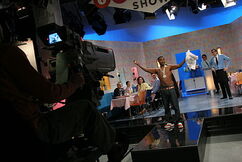 HEAD WRITER LIZ LEMON FINDS HERSELF DEFENDING HER LIVE TV SHOW WHEN BRASH NEW NETWORK EXECUTIVE STARTS MEDDLING — The premiere episode features single comedy writer Liz Lemon living every comedy writer's dream – head writer on a demanding, live TV variety program in New York City, which stars one of her closest friends, the sweet, but self absorbed Jenna Maroney. Her world is turned upside down when brash new network executive Jack Donaghy interferes with her show and staff, and bullies Lemon into convincing Tracy Jordan a wild and unpredictable movie star, to join the cast. Donaghy encourages Lemon to get to know Jordan before she rejects him outright, and in an attempt to spend quality time with him, she finds herself swept up with him and his entourage in some unlikely places and positions.[1]
The show begins with Liz Lemon, the head writer of the fictional television series The Girlie Show, attempting to buy a hot dog before work. After a fellow commuter begins an argument, Liz buys $150 worth of hot dogs and distributes them to random passersby, hobos, and colleagues. When she arrives at work, she is embarrassed when she is forced by Kenneth, the naïve NBC Page who conducts tours around 30 Rock, to introduce herself to a group of Girlie Show fans.
Liz and her producer Pete Hornberger (Scott Adsit) meet with The Girlie Show's new network executive Jack Donaghy. Jack tells Liz and Pete that he has been sent to 30 Rock to re-tool The Girlie Show. After inadvertently insulting her, Liz takes an initial dislike to Jack. Jack asks Liz to hire Tracy Jordan, star of the film Honkey Grandma Be Trippin', as part of the cast. Liz is skeptical as Tracy has a history of problematic behaviour, including running down New York State Route 405 in his underwear while shouting "I am a Jedi!" and falling asleep on his neighbour's roof. In comparison to Liz, the narcissistic star of The Girlie Show, Jenna Maroney (Jane Krakowski) takes to Jack upon their first meeting. She begins to worry when she hears that Tracy may become the new star of the show.
Against her own judgment, Liz meets Tracy at a restaurant, but when Tracy discovers that he does not like the food, they go to another restaurant. While Liz tried to convince Tracy not to join The Girlie Show, he discusses conspiracy theories. After the meeting, Tracy offers to take Liz back to the studio, but he makes a detour to a strip club in the Bronx. While trying to get home, Liz learns that Jack fired Pete earlier that day. Tracy and Liz arrive at the studio halfway through the live broadcast of the show. Liz sends Tracy out on stage to talk off the last bit of the show, much to The Girlie Show studio audience's delight and Jenna's shock. Backstage, Liz forces Jack to rehire Pete and guarantee Jenna's job.
Liz: You know how I hate it when people cheat or break rules
Pete: Yes I do
Liz: Well I just spent $150 on weinners
Pete: Attaboy
Jack: [to Liz] I like you. You have the boldness of a much younger woman.
---
:
Tracy
: Yeah yeah yeah, I like risky. See, me and you, we play the game. We know how to be acceptable. Hello great meeting, I drink coffee please. This show is our chance to break the shackles cause the white dudes want to see us fail.
Pop Culture
Edit
When Tracy mentions that TGS should be "raw, HBO-style content", Liz replies by telling Tracy that's "it's not HBO, it's TV", a reference to HBO's slogan "It's not TV, it's HBO."
The pilot episode of the American situation comedy series 30 Rock premiered on October 10, 2006 on the CTV Television Network in Canada,[2] and October 11, 2006 on NBC in the United States.[3] The episode was directed by Adam Bernstein and written by Tina Fey, the series' creator, executive producer and lead actor.[4]
In 2002, Tina Fey, then head writer of Saturday Night Live (SNL), pitched the idea for a series about a cable news network to NBC, who rejected it. Two years later, Fey approached NBC with a similar idea: a behind-the-scenes look at The Girlie Show, a television show similar to SNL. NBC approved the series in May 2006 and production began shortly after.[5] Although the episode received generally positive reviews, it finished third in its timeslot among all viewers and among adults aged 18 to 49. Critics praised the performances of Jack McBrayer and Jane Krakowski, who played Kenneth Parcell and Jenna Maroney, respectively.
Several characters are introduced in the pilot: Liz Lemon (Fey), the head writer of the fictional sketch comedy series The Girlie Show; Jack Donaghy (Alec Baldwin), the network executive; Kenneth Parcell (McBrayer), the NBC page; and the writing staff and cast of Lemon's show. This episode focuses on Jack's attempt to convince Liz to hire film star Tracy Jordan (Tracy Morgan) as part of the cast of The Girlie Show and the crew's reactions to Tracy's addition.
Reception
Edit
This episode was viewed by 8.13 million viewers and received a Nielsen Rating of 2.9/8 in the key adults 18–49 demographic.[6] As of October 2007, in the U.S. this episode was the highest rated, based on total viewers, of any in the series.[7] In the U.K., the episode attracted 700,000 viewers, 6% of that time slot's viewing audience.[8]
This episode received generally good reviews.[9][10] Metacritic gave the episode a Metascore–a weighted average based on the impressions of a select thirty-one critical reviews–of 67 out of 100.[9] Dorothy Rabinowitz of The Wall Street Journal praised the "hilarious scenes and fine ensemble cast", particularly commenting on Jack McBrayer's performance as Kenneth Parcell and Rachel Dratch's portrayal of the cat-wrangler, Greta Johansen.[11]
Not all critics liked the episode. Oscar Dahl of BuddyTV felt that this episode did not live up to the show's potential.[12] San Francisco Chronicle's Tim Goodman lamented that "the original [episode] was funnier" than the one that aired.[13] Tom Shales of Washington Post said that "the show needs a better premise and funnier dialogue".[14] Despite this, Shales said that 30 Rock "is not a self-important bore like Studio 60 on the Sunset Strip", and praised Tracy Morgan's performance as Tracy Jordan.[14]
The director of this episode, Adam Bernstein, was nominated for the Directors Guild of America Award for "Outstanding Directorial Achievement in Comedy Series", in 2007.[15] Bernstein lost to Richard Shepard for his work on the Ugly Betty pilot.
Conception
Edit
Tina Fey, the head writer and a performer on NBC's Saturday Night Live, pitched a pilot episode for a situation comedy about a cable news network to NBC in 2002. NBC Entertainment president Kevin Reilly felt that "Fey was using the news setting as a fig leaf for her own experience and [he] encouraged her to write what she knew."[16] The pilot, and subsequent series, was reworked to revolve around an SNL style series. Fey signed a contract with NBC in May 2003, which allowed her to remain in her SNL head writer position until at least the 2004–2005 television season. As part of the contract, Fey was required to develop a primetime project to be produced by Broadway Video, Lorne Michaels' production company, and NBC Universal.[17] During the 2004–2005 pilot season, Fey began developing a pilot project under the working title Untitled Tina Fey Project. The pilot, which became 30 Rock, centered on the head writer of a variety show and how she managed her relationships with the show's volatile star and executive producer. During development, some characters were altered; a second star of the variety show was added and the executive producer role changed to network executive.[18]
Fey worked with Jennifer McNamara and Adam Bernstein for the casting of the series. Their first decision was for Fey to portray the lead character, Liz Lemon.[19] Fey acknowledged similarities between Liz and her own life when she became head writer on SNL, primarily a heavy focus on her job.[20] Fey asked one of her castmates on SNL, Tracy Morgan, to play Tracy Jordan.[21] Morgan believed the role was "right up [his] alley and it was tailor made for [him]",[22] and Fey noted that Tracy Jordan "acts wild" like Tracy Morgan did at SNL.[23]
Fey wrote the charachter of na?ve NBC page Kenneth Parcell with her friend Jack McBrayer in mind,[19] who has been described as "the show's brightest discovery".[24] She has said that she "really wanted him for that part and was very happy when no one objected".[19] Shortly after McBrayer's casting, Alec Baldwin was cast as Jack Donaghy, the "totally uncensored" Vice President of East Coast Television and Microwave Oven Programming.[25] Fey had written the part with Baldwin in mind, but was "very pleasantly surprised when he agreed to do it".[19] As the series progressed "the push-pull [relationship] between Fey's character, Liz Lemon, the harried head writer of The Girlie Show, and Alec Baldwin's domineering network executive, Jack Donaghy" helped the show find "its rhythm".[26]
Judah Friedlander was cast as the staff writer of The Girlie Show, Frank Rossitano. Before auditioning for the role, Friedlander and Fey had never met. His character was based on at least two writers that Fey used to work with at SNL, but he "certainly brought some of [his] own things to it as well",[27] including his trucker hat wearing persona.[28] Fey based the role of Pete Hornberger, a long time friend of Liz's and producer of The Girlie Show, on Scott Adsit, who agreed to portray the character.[19]
In an unaired pilot for 30 Rock, Rachel Dratch, a former SNL cast member,[29] originally played the role of Jenna DeCarlo. In August 2006, executive producer Lorne Michaels announced that Dratch would be replaced as Jenna but would portray different roles in other episodes. In the re-tooled pilot, Dratch appears as The Girlie Show's cat wrangler.[30] Later in the month, NBC announced that Jane Krakowski had replaced Dratch in the role of Jenna,[31][32][33] and that the character was renamed Jenna Maroney.[34] Michaels said that "everyone is thrilled that she is joining the cast", and thought she was going to be a "perfect fit".[31]
Guest Starring
Edit
Co-Starring
Edit
External Links
Edit
This episode doesn't have external links yet. Please add one!
References
Edit
Season One

Episodes

Season Two

Episodes


Season Three

Episodes