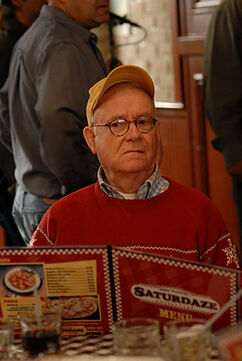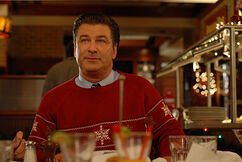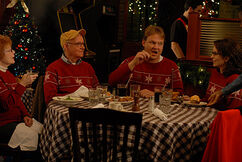 It's holiday time and the staff of "TGS with Tracy Jordan" is having their annual "Ludachristmas" party — complete with music, merriment, "The Human Table" and a Horny Santa. Unfortunately, Tracy can't participate due to his newly court mandated alcohol monitoring bracelet. Since holidays mean special family time, Liz's parents, Dick and Margaret Lemon, and her 40-year-old brother Mitch, who suffers from memory loss due to a skiing accident and thinks he is 17-year-old high school senior, come to gloat over their "beautiful genius" daughter. Jack's jaded mother, Colleen, even shows up unexpectedly from Florida. The Lemons and the Donaghys go to dinner together, where Colleen spends the night trying to break the eternal optimism of the Lemon family. Meanwhile, in the spirit of Christmas cheer, Kenneth decides to teach the writing staff a lesson on gratitude by inviting a priest to the party.
[1]
"It Wouldn't be a Lemon Party without old dick" - Dick Lemon
Pop Culture
Edit
Jersey Boys is a Broadway musical.
Flashdance is a movie that was released in 1983.
George Michael was the lead singer of Wham! , a popular '80s band.
Goonies was a movie produced by Steven Spielberg.
Frank's hats say "Shower Scene" and "Ho Ho Horny".
In a scene showing the headquarter's for Tracy's ankle bracelet company, there are five other dots on the screen: M. Rodríguez, M. Lohan, D. Lohan, L. Lohan and C. Bacca. (presumably, Michelle Rodriguez, Michael, Dina and Lindsay Lohan, and Chewbacca).
Starring
Guest Starring
Edit
Andy Richter- Mitch Lemon
Buck Henry- Dick Lemon
Anita Gillette- Margaret Lemon
Co-Starring
Edit
External Links
Edit
This episode doesn't have external links yet. Please add one!
References
Edit
↑

NBC Press Release – December 13, 200707
Season One

Episodes

Season Two

Episodes


Season Three

Episodes