Jenna Maroney (born Yustrepa Gronkowitz) is a fictional character on the NBC television series 30 Rock. She is the eccentric best friend of Liz Lemon and was the lead woman in The Girlie Show. She is portrayed by Jane Krakowski. Despite being credited as a regular, the character does not appear in every episode. [1]
Personal history
[
]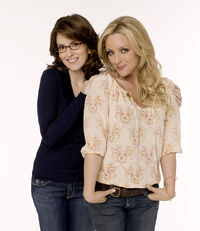 Jenna's father, Werner Maroney, was a burger server in suburban Santa Barbara. Apparently, he spurned Jenna's mother Verna for a "curly-haired" surfer named Roberta. (video)Jenna still says she will "always be his little girl." She apparently has a sister who peed in one of her eyes when she was little, which caused it to not open all the way.
Jenna studied voice at Northwestern University where she first met Liz Lemon, while Jenna was also "slutting it up" to get car dealership owners to put her in their commercials. She later did theater work, including The Jenna Chronicles: A One-Womyn Show in 1996, Con Air: The Musical in 1997, and she participated in a Gangsta rap contest in 2000. In the musical version of Con Air, she appears to have played Rachel Ticotin's character. She was also once engaged to David Blaine. She won a Cable ACE Award for her work on HBO's Arliss.
As the series premieres, Jenna is the main star of The Girlie Show, a sketch comedy series created by her friend Liz Lemon. Jenna's star billing is drastically reduced when Jack Donaghy is hired as a new network vice president and brings in Tracy Jordan, a popular, unpredictable and erstwhile comedic movie actor on the skids. On top of that, Jack decides that Tracy is more a priority than Jenna and orders the show's title changed to TGS with Tracy Jordan.
The move has Jenna furious; not only is she left out of the loop, but she's disappointed to see Liz give in to Jack's demands. In addition she finds herself at the mercy of Tracy's mentally unstable antics, the writing staff's constant pranks, and Jack's enduring avoidance of her (his reason is that she is not promotable for the show). Despite all this, Liz assures Jenna that her future on the show is safe...for now.
When she is not doing the show, she also does films, having wrapped up filming The Rural Juror written by John Grisham's brother Kevin Grisham, which she intends to promote until Jack replaces her appearance on Late Night with Conan O'Brien with Tracy. In "The Rural Juror", she mentions that The Rural Juror would be her first starring role in a film.
Jenna sings as well, and she claims to be a popular Dance Pop superstar overseas, citing a track that became a major hit in a few territories in Europe (#1 in Israel and #4 in Belgium), "Muffin Top." Unfortunately no one in the United States gets a chance to see her perform the song because Liz has the number cut from the show without Jenna knowing - she performs the number after credits and without tape in the cameras. She also sings Whitney Houston's Greatest Love of All when the crew surprises her with a birthday party, which is interrupted by Cerie announcing her engagement, and again when Josh runs in announcing an antique car show out on the plaza.
Some of her characters on the show are: "Pam, the Overly-Confident Morbidly Obese Woman", for which she must wear a fat suit and Paris Hilton where "most of the jokes were about the nose."
While on the first season hiatus Jenna stars in the Broadway adaptation of Mystic Pizza, requiring her to eat 32 slices of pizza on stage every week, and she's gained a significant amount of weight by season 2.[2] Jack's observation is that she either needs to lose 30 or gain 60: anything in between is not acceptable on broadcast television. She's unable to control her appetite, and bizarre crash diets - such as the Japanese Porn Star Diet, which involves eating only paper - prove ineffective. She is equally unsuccessful at disguising the weight (drawing the eye up, not standing next to fit and attractive women, etc.) Dr. Spaceman suggests radical surgery and offers to prescribe her crystal meth, but she changes her mind after doing a sketch written by Frank called "Me Want Food," which proves so popular with viewers that she decides to keep the weight. However this phase doesn't last long, as she soon loses her desire to eat, and the weight she had gained despite Kenneth's attempts to force feed her.
Personality
[
]
Generally, she fits into the "dumb blonde" stereotype as well as the stereotype of actresses being air headed and self-centered. Off-camera, she is conceited, frequently lies about her age and uses her "sexuality" (i.e. flirting) to get her way with men. She tries to seem smart to her fans and to the general public, even going as far as telling Life and Style magazine her favorite book is the Koran. Sometimes her views get her in hot water with the public, even when she is misquoted; when Maxim asked her about her view on the Iraq War Jenna misheard and thought she was being asked about theatre troupes rather than "the troops." When she saw the article afterwards - in which a quote "I hate the troops" was printed - she and Liz were forced to do damage control by placing her on Hardball with Chris Matthews (accidentally confusing Barack Obama with Osama bin Laden), followed by doing a number about America, but in both cases the damage was made even worse than before (the sparklers didn't spin, and they inaverdetly showed swastikas).
Despite her otherwise occasional missteps in logic, as seen in "The Fabian Strategy," she is a remarkably talented producer.
She is very dramatic, and you may notice, for example, she has said "If it is a blonde girl, I will kill myself!" and she uses the kill myself term for a lot of things.
She also has a habit of spilling secrets, as evidenced in the episode "The Baby Show," when she told everyone about Liz's desire to have a baby, prompting everyone to volunteer to become Liz's sperm donor and surrogate.
She is shown to be overanxious about her acting career, which is apparently failing. Paranoid about losing her job, she proves to be any easy target for anyone who wants to mess with her head since she tends to foolishly listen to whatever anyone tells her. Liz usually has to intervene at the last moment to bring her back to reality. Jenna also finds it tough to get along with Tracy by watching his antics even as she tries to work, let alone be friends, with him.
In "The Baby Show," she celebrated her birthday. Ignoring the episodes' airdates, which tend to contradict with the show's timeline, and given the mention of Thanksgiving in "Tracy Does Conan" and the fact that in "The Rural Juror," the fictional film of the title, which was stated to have a December 18 release, is still upcoming, her birthday seems to be around late November or early December. According to Liz in "The Rural Juror," Jenna's hair is dyed. In "The Fighting Irish," Jenna stated that she was a follower of Kabbalah, which, in her words, "combines the fun part of Judaism with magic." She owns a condo in Clearwater, Florida, which implies she is also involved with Scientology.
Fictional filmography
[
]
Television:
The Girlie Show with Tracy Jordan - Creator/Various Characters
A show in the Law & Order franchise (most likely Law and Order: Special Victims Unit) - a "lady rapist"
Law & Order SVU- victim (video)
Arliss - Received a Cable ACE Award nomination for a guest spot on the show
Gossip Girl - The mother of a college student, dying from "old age." (text)
Night Court - werewolf lawyer Sparky Monroe (video)
The Mickey Mouse Club (presumably the 1970s revival) - as a Mouseketeer (text)
Good Looking (pilot) - Alexis Goodlooking
Hushed Rapings (Lifetime Original Mini-Series) - Jill St Ferrari
Queen of Jordan- As herself (video)
America's Kidz Got Singing- Celebrity judge (video)
Celebrity Outhouse- with Lorena Bobbitt
Film:
The Rural Juror - Constance Justice (video)
Take My Hand - Torture victim (photos)
Sing Them Blues, White Girl: The Jackie Jormp-Jomp Story (Sheinhardt-Universal chose not to release the film) (video)
Nightstalkers- Moonologist
Trivial Pursuit: The Movie- Arts & Literature (

Gentleman's Intermission

)
Kidnapped by Danger- Avery Jessup (several episodes)
Emmanuelle Goes to Dinosaurland
Sleeping with the Enemy (scene was cut out)
Martin Luther King Day (video)
The Amanda Knox Story- Italian Party Whore
Sister Can You Spare a Breast? (image)
Jenna Gets Hard- excercise video (video)
Stage/Live performances:
The Jenna Chronicles: A One Womyn Show (1996)
Evita - A poster of it can be seen in her dressing room
Mystic Pizza: The Musical — Summer 2007 — Broadway
Con Air: The Musical! (1997)
Peter Pan-Peter Pan on Broadway (Street, in Tampa)
Are you There God? It's Me, Improv (video)
The Rural Juror on Broadway
Vagina Day- A charity event founded by a group of celebrities who have for whatever reason never been asked to participate in The Vagina Monologues (video)
Pipin (text)
Bizprov:Business training conference- Performer (video)
Maroney & Lemon (video)
Music:
Chocolate Rainbow
Unnamed album with Phil Spector
Choke Me, Choke Me, Blonde like Choke Me (#4 Single in Japan) (video)
I Caught Crabs in Paradise(video)
Balls (video)
Chunk of My Lung- From Sing Them Blues, White Girl: The Jackie Jormp-Jomp Story (video)
Kidnapped by Danger
The Rural Juror (video)
It's Your Birthdee Slut (video)
Voice acting:
Gorgasm: The Legend of Dong Slayer, The Video Game by Tracy Jordan: Various female voices/sex sounds
Commericals/spokeswoman:
Gerry Chairs Commercial - Spokescrone
ShopRite Supermarkets - Commercial Spokesperson
Japanese Commercial for "Whizz" (a drink)
Enorme-The #1 fragrence for plus sized women (video)
Clingfree (as a child)
Well Guards (as a child)
Gator Hater Gator Spray (as a child)(image)
The Wool Council (deal did not go through) (image)
Feet of filthylittlefeet.com (image)
Face of Clinque, a French-Canadian anal rejuvination clinic
Off-brandheelz.com- spokeswoman (video)
NBC Tennis Night- spokeswoman (video)
Dog food commerical
Awards/accolades
NY Critics Association Award for Best Actress in a Movie Based on a Musical Based on a Movie for Mystic Pizza
Time Out Magazine--Funniest Woman in New York
Two Time Cable Ace Award Nominee
Number 4 on Maxim's Sexiest Women in Comedy (video)
Appearances
The Vontella Show- Promoting "Dealbreakers" skit from TGS
The Kid's Choice Awards
Posed bottomless in "Essence"
Hardball- responding to negative comments about the troops (video)
The View- Discussing The Rural Juror
Host of the St. Patrick's Day Parade
Photos sold by Frank to garbage fetish website, müll-schlampe.de
Topless host of Nickelodeon Mexico
10 year contract with Japanese karaoke machine company (images)
Trivia
[
]
In Queen of Jordan 2: The Mystery of the Phantom Pooper, Jenna mentions she was concieved on a toilet. She was born in a parking lot.
Jenna lost her virginity to a bait salesman on a waterbed, while listening to the My Fair Lady soundtrack
References
[
]