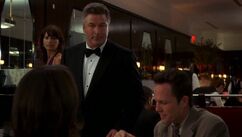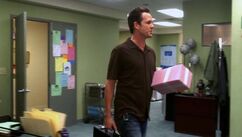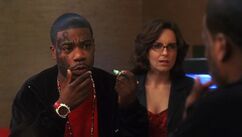 LIZ LEMON GOES BACK TO HER EX-BOYFRIEND DENNIS, SIMPLY BECAUSE SHE'S BORED — Liz confesses she got back with her ex ... because he asked. Jack Donaghy fears that Liz is leading a life of mediocrity and takes it upon himself to be her mentor. Meanwhile, back at the show, Liz needs to deal with a physically-altered cast, including a face tattoo on Tracy; botox and collagen injections on Jenna and Josh sporting two black eyes from a run-in with an angry liz taylor. [1]
---
Tracy: I need to protect my reputation. You take away my street cred, and I am Wayne Brady.
Liz: Nuh-uh. Wayne Brady has three Emmys. You have a People's Choice Award that you stole from Wayne Brady.
Pop Culture
Edit
This episode doesn't have pop culture yet. Please add one!
The trucker hats Frank wears in this episode read "Ninja Expert" and "Joystick Master."
When they start to panic near the end, Pete offers that they may get lucky and be preempted by some national news event, then inquires about Gerald Ford's health. Gerald Ford actually passed away less than a month later, and on the DVD release, the line is replaced with, "It's still hurricane season, right?"
Guest Starring
Edit
Co-Starring
Edit
External Links
Edit
This episode doesn't have external links yet. Please add one!
References
Edit
↑

NBC Press Release – Thursday, November 30, 2006
Season One

Episodes

Season Two

Episodes


Season Three

Episodes