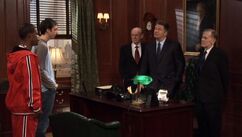 JACK ASPIRES TO ACT AND TRACY REVEALS A PAINFUL SECRET — After being pressured by Jack to plug GE products into her show, Liz integrates Jack himself into a sketch. While Jack hones his questionable acting chops, Frank and Toofer trick Jenna into fearing for her job and Liz wonders if Tracy is faking illiteracy to skip out on rehearsals. [1]
Pete: So, first you thought he was illiterate and now you think he's lazy? Liz, you are racist.
Liz: No, Tracy took advantage of my white guilt, which is supposed to be used only for good, like over-tipping and supporting Barack Obama.
---
[Jack in an internal GE training video being shown to the writers.]
Jack: All you have to do as the writing staff of an NBC show is incorporate positive mentions, or "POS-MENS" of GE products into your program. For example you could write an episode where one of your character purchases, and is satisfied with one of GE's direct current drilling motors for off-shore or land-based projects.
Pop Culture
Edit
One of Tracy's lines in his cop-buddy movie is "I'm getting too old for this", an oft-repeated line from the Lethal Weapon movies.
Frank says his friend in accounting is Lando Calrissian, a character from the Star Wars films.
Jack's many failed attempts to record the promotional video for GE are reminscent of the internet viral video featuring the "Winnebago Man".
The trucker hat Frank wears in this episode reads "Hand Held."
Robert Carlock was nominated for an Outstanding Writing for a Comedy Series Emmy for his work in this episode
Guest Starring
Edit
Co-Starring
Edit
External Links
Edit
This episode doesn't have external links yet. Please add one!
References
Edit
↑

NBC Press Release – Thursday, November 16, 2006
Season One

Episodes

Season Two

Episodes


Season Three

Episodes