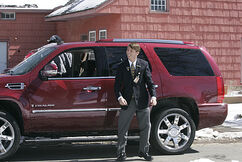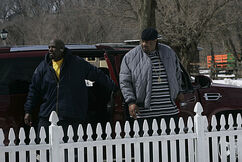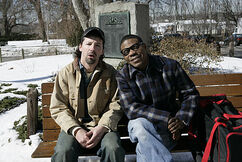 WITH THE END OF TGS' SEASON NEAR, LIZ AND THE CAST FACE DECISIONS THAT WILL ROCK THE SHOW — As TGS' summer hiatus approaches, Liz deals with the difficulties of her long-distance relationship with Floyd while she enlists Kenneth's help in locating on-the-lam Tracy. Meanwhile, Jack's impending marriage to Phoebe brings his mother, Colleen Donaghy to town.[1]
Colleen: [referring to Phoebe] All right, scout's honor, what do you think of her?
[Jack gives Liz a look]
Liz: She's very well-read... and she's very stylish, don't you think? And you know the most important thing is she makes Jack very happy. She's like a... white geisha.
---
Colleen: Tell him his mother's here! ...And she loves him! ...But not in a queer way!
---
Jack (pointing to heart monitor): How's the DOW doing?
Pop Culture
Edit
Liz worries, "is that how far apart my eyes are? I look like Admiral Ackbar", referring to a character who appeared in Star Wars Episode VI: Return of the Jedi (1983). Admiral Ackbar is of the race Mon Calamari, which resemble humanoid fish with their eyes towards the sides of their head.
The trucker hats Frank wears in this episode read "Force Field" and "Alien Knight Force".
Co-Starring
Edit
Guest Starring
Edit
External Links
Edit
This episode doesn't have external links yet. Please add one!
References
Edit
↑

NBC Press Release – Thursday, January 4, 2007
Season One

Episodes

Season Two

Episodes


Season Three

Episodes