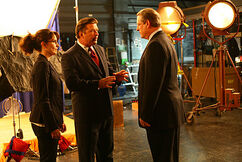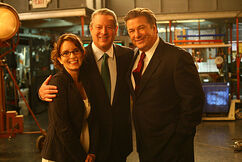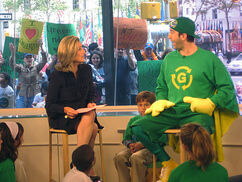 As part of a GE-wide green initiative, Jack has come up with the idea of creating a green mascot for NBC – a Philly Fanatic-looking character named Greenzo. When Greenzo's eco-friendly preachiness gets obnoxiously out of hand in The Girlie Show offices, and during a press tour appearance, it's Liz who gets fed up the most with this ridiculous character. At the same time, Kenneth is planning his annual house party, a boring little soiree where Liz has been the only one who ever showed up in the past. Tracy (Tracy Morgan) wants the party to be a success for Kenneth, so he spreads a few little rumors to get the event hopping. What starts out as simple office gossip, gets out of control.[1]
Frank: I'm telling you Cerie, it is going to be awesome. T.I., Fall Out Boy, foxy boxing.
Cerie: Sounds hot. But I have my 4 girl cousins visiting from Holland this week. Do you think you can get them in?
Frank: I will die a thousand deaths before I fail you.
Cerie: They get so drunk.
Pop Culture
Edit
Frank mentions the American pop rock band Fall Out Boy
"Greenzo" is the first episode of 30 Rock written by Jon Pollack. Pollack was added to the writing staff of 30 Rock at the beginning of the second season.[2][3] The episode is the ninth episode of 30 Rock directed by Don Scardino. This episode aired as part of Green Week, an initiative introduced by NBC's Chief Executive Jeff Zucker which included having every primetime program which aired between November 4, 2007 and November 10, 2007 contain some sort of positive environmental theme.[4] This was also the first episode of 30 Rock to air after the start of the 2007–2008 Writers Guild of America strike. The strike began on November 5, 2007[5][6] and ended on February 12, 2008.[7] This episode was filmed on September 27[8] and September 28, 2007.[9]
This episode doesn't have a cast listing yet. Please add one!
Guest Starring
Edit
David Schwimmer as Greenzo
Co-Starring
Edit
External Links
Edit
This episode doesn't have external links yet. Please add one!
References
Edit
Season One

Episodes

Season Two

Episodes


Season Three

Episodes