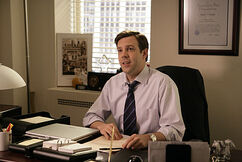 Floyd DeBarber, portrayed by Jason Sudeikis, was Liz Lemon's boyfriend during the end of Season 1. Before dating Lemon he was with Liz Lemler. Floyd formerly worked in 30 Rockefeler, but has since moved back to his hometown of Cleveland to become a lawyer at a top firm. After an attempt at maintaining a long distance relationship, he and Lemon broke up. Floyd later moved back to New York to marry another woman, Katelyn. Liz agrees to participate in their wedding as a reader in their Catholic ceremony, but tanks it in order to stall for Jack while he attempts to convince Nancy Daugherty to stay with him even though he is also in a relationship with Avery Jessup.
Floyd's name is a reference to the character of Floyd the Barber from The Andy Griffith Show, also a reference to a joke he makes to Jack in Season 1 Episode 19 "Corporate Crush".
Community content is available under
CC-BY-SA
unless otherwise noted.