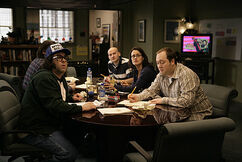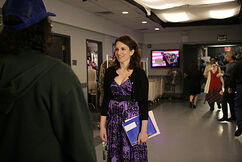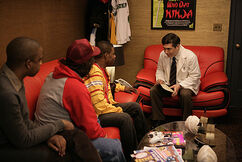 LIZ FINDS LOVE WHILE JACK FIGHTS TO KEEP HIS JOB — The tables have turned inside 30 Rock: Liz is actually happy in her new relationship with Floyd while Jack finds his job may be in jeopardy after his televised fireworks fiasco prompts top GE man Don Geiss to warn he's got his eye on Jack's performance. Tracy vies for Geiss' attention, hoping to turn his feature film idea for "Jefferson" into a reality.[1]
[Liz enters a room and stands behind Jack]
Jack: You've been avoiding me, Lemon.
Liz: How do you do that without turning around?
Jack: To be perfectly honest, the first couple of people I did that to were not you, but... here we are.
---
Jack: I'm not a creative type like you, with your work sneakers and left-handedness.
Pop Culture
Edit
When Liz look at the intercom and says "The Calls Are Coming from Inside the House" which refers to an urban legend.
The trucker hats that Frank wears during the episode say "Mystery Solver" and "Bahama Trapezoid".
Guest Starring
Edit
Co-Starring
Edit
External Links
Edit
This episode doesn't have external links yet. Please add one!
References
Edit
↑

NBC Press Release – Thursday, January 4, 2007
Season One

Episodes

Season Two

Episodes


Season Three

Episodes