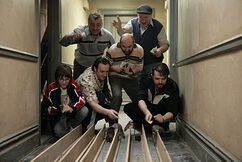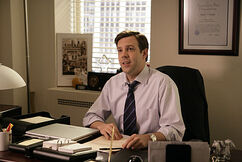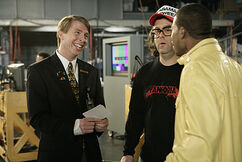 LIZ MULLS A MIDWEST MOVE WHILE JACK PLANS TO WED — Sick of New York and frustrated with his career, Floyd contemplates a move to the Midwest and asks Liz if she's consider leaving TGS behind. Jack rushes to Paris – and soon, the altar – with Christies auctioneer Phoebe while Tracy works furiously on financing his latest career move, dubbed the "Tracy Jordan Comeback." [1]
Phoebe: You know how John Lennon was better then all the rest of the Beatles but he never realized it until he met Yoko? Well I'm gonna be Jack's Yoko!
Liz: You want to be Yoko?!
---
Floyd: If the whole world moved to their favorite vacation spots, then the whole world would live in Hawaii and Italy and Cleveland.
Pop Culture
Edit
The final scene of the episode parallels the final scene in the Godfather (1972). After Michael lies to Kay about ordering Carlo to be killed she offers to go make the two of them a drink. Through the door opening, Kay watches as Michael is greeted as "Don Corleone" by his Coporegime. As she watches Al Neri closes the door on Kay.
This episode doesn't have notes yet. Please add one!
This episode doesn't have a cast listing yet. Please add one!
Co-Starring
Edit
Guest Starring
Edit
External Links
Edit
This episode doesn't have external links yet. Please add one!
References
Edit
↑

NBC Press Release – Thursday, April 19, 2007
Season One

Episodes

Season Two

Episodes


Season Three

Episodes