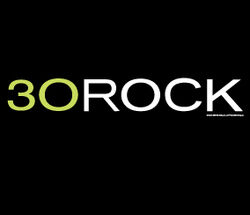 30 Rock is an American television comedy series which was created by Tina Fey. The show is produced by Broadway Video and Little Stranger, inc in association with NBC Universal and airs on the NBC network in the United States.[1] The show deals with the goings on behind the camera of the fictional live sketch comedy series, TGS with Tracy Jordan. The pilot episode first aired on October 11, 2006.[2] The first season was comprised of 21 episodes. The second season, which premiered on October 4, 2007,[3] was abbreviated to 15 episodes because of the WGA writers' strike and third season is expected to premiere during Fall 2008.[4][5]
The current executive producers are Tina Fey, Lorne Michaels, Marci Klein, David Miner and Robert Carlock.[1] 30 Rock is filmed primarily at Silvercup Studios in Long Island City, New York.[6] Some scenes are filmed on location at Rockefeller Center and scene transition shots are shown of 30 Rockefeller Plaza, the series' namesake. The series has an ensemble cast which currently consists of ten regular cast members, including Fey.[1] The series main cast consists of Fey, Alec Baldwin, Tracy Morgan, Jane Krakowski and Jack McBrayer. The show also has a cast of eight secondary characters.
30 Rock has been a critical success, winning several major awards including the Primetime Emmy Award for Outstanding Comedy Series,[7] the Writers Guild of America Award for Best Comedy Series,[8] the Producers Guild of America Award for Producer of the Year in Episodic Comedy Series[9], the Golden Globe for best comedy or musical series, and a Peabody Award[10] as well as achieving the top ranking on a myriad of critics' year-end best of 2006 and 2007 lists.[1] Despite these accolades, the series averaged a low 5.8 million viewers in its first season, in the United States, according to the Nielsen Ratings system, and ranked just 102 out of 142 television series.[11]
Production
Edit
Conception
Edit
In 2002, Fey, who was the head writer and a performer on Saturday Night Live, pitched the show that became 30 Rock to NBC, originally as a sitcom about cable news. NBC Entertainment president Kevin Reilly felt that "Fey was using the news setting as a fig leaf for her own experience and [he] encouraged her to write what she knew."[12] The show was subsequently reworked to revolve around a Saturday Night Live (SNL) style skit show. In May 2003, Fey signed a contract with NBC to remain in her SNL head writer position until at least the 2004-2005 television season, and to develop a primetime project to be produced by Broadway Video and NBC Universal.[13] During the 2004-2005 pilot season, a pilot was announced named Untitled Tina Fey Project. The pilot which became 30 Rock was about the head writer of a variety show who has to manage her relationships with the show's volatile star and executive producer. The storyline evolved into one that dealt with a head writer of a variety show who dealt with both the stars as well as the variety show's new network executive.[14] 30 Rock was officially given the greenlight to air on May 15, 2006 and was given a 13-episode order.[15]
The show underwent further changes during the months leading up to and following its debut. A May 2006 press release mentioned that sketches from The Girlie Show would be made available in their entirety on NBC's broadband website, DotComedy.com. The idea was to air the fictitious TGS with Tracy Jordan online.[16] This aspect of the series was abandoned prior to its debut.
Filming locations
Edit
30 Rock is filmed in New York City. Although establishing shots of 30 Rock are often repeated, outdoor scenes are filmed on location at Rockefeller Center or in other parts of New York City. Most of the indoor scenes are filmed at Silvercup Studios in Queens.[6] In the episodes "Cleveland" and "Hiatus", Battery Park City, Manhattan and Douglaston, Queens doubled for Cleveland, Ohio[17] and the fictional Needmore, Pennsylvania, respectively.
The series features a jazzy score. The music is composed by Fey's husband Jeff Richmond, who is also a producer for 30 Rock. Richmond wrote the theme song, which won a Primetime Emmy Award for Outstanding Main Title Theme Music.[18] Six short original songs have been featured in episodes, four of which were performed by Jane Krakowski, another performed by Tina Fey and Jason Sudeikis and another performed by Tracy Morgan. The show has also covered three existing songs, including the song "Midnight Train to Georgia" by Gladys Knight and the Pips. The song had its lyrics altered. One song heard throughout the episode "The Source Awards" is performed by the artist The Gray Kid. It is the song "Oh My." The song was mixed with a piano arrangement composed by Jeff Richmond.
On April 2, 2008 NBC announced, 30 Rock 360, an online extension of the 30 Rock series. The extension will feature Jack Donaghy's Online Business Courses (or Jack U). Users will also be able to read Jack's blogs and upload their own business advice in video form. Users will be able to submit skits for TGS with Tracy Jordan and act out skits from TGS. The feature will re-open Ask Tina, an interactive question and answer platform in which users can ask Fey questions. Fey will answer the questions in video form.[19] Ask Tina was a fixture on NBC.com's 30 Rock section throughout the first season.[20]
Complete episodes of 30 Rock are available online, to U.S. residents only, along with downloads through the "NBC Direct" service.[21] Episodes were available on iTunes, although this arrangement ceased in December 2007 as NBC and Apple Inc. were unable to come to a renewal deal.[22] Season 1 is currently available for streaming on Netflix, which requires a paid subscription.[23] Season 1 and 2 are also available on Amazon Unbox for $1.99.[24][25]. The episodes of Season 2 are also available for free streaming on Hulu.com with brief commercials at the normal interruption points.
Cast and characters
Edit
The plot of 30 Rock revolves around the cast and crew of the fictional sketch comedy series TGS with Tracy Jordan, which is filmed in Studio 6H inside 30 Rockefeller Plaza.[26] The cast of the series is an ensemble cast,[1] which means that each character is seen with roughly the same amount of importance in each episode.
The initial season had seven roles receiving star billing. Tina Fey portrayed the protagonist, the head writer of TGS with Tracy Jordan, Liz Lemon; Tracy Morgan played the loose cannon star of TGS Tracy Jordan; Jane Krakowski acted as the limelight seeking Jenna Maroney; Jack McBrayer portrayed the young, obedient Southern-born NBC page, Kenneth Parcell; Scott Adsit played the "sane," quick witted producer of TGS, Pete Hornberger; Judah Friedlander acted as the trucker hatted childish, sarcastic writer Frank Rossitano and Alec Baldwin portrayed the decisive, controlling, suave network executive Jack Donaghy, who constantly interferes with the goings on at TGS.[1]
Beginning with season two, three characters, who were credited as guest stars during season one, received star billing in addition to the existing cast.[1] Katrina Bowden portrayed Liz's attractive, laid back assistant Cerie Xerox.[27] Keith Powell played black Harvard alumni writer James "Toofer" Spurlock. Lonny Ross acted as the immature TGS cast member Josh Girard.
Numerous supporting characters have been given recurring appearances in the series. They include Maulik Pancholy as Jack's loyal assistant Jonathan. Grizz Chapman and Kevin Brown make appearances as members of Tracy's entourage Grizz and Dot Com, respectively. John Lutz makes appearances as the food loving TGS writer J.D Lutz.
Fey started by casting herself as the lead character, Liz Lemon. The next actor to be cast was Tracy Morgan as Tracy Jordan.[28] After that was Jack McBrayer who plays Kenneth Parcell and then Rachel Dratch.[29][29] Originally, Dratch, Fey's longtime comedy partner and fellow SNL alumna, was to portray Jenna. Dratch played the role in the show's original pilot, but in August 2006, Jane Krakowski was announced as Dratch's replacement, with Dratch remaining involved in the show playing various characters.[30] Fey attributed the change to the role itself, one Fey called a "straight-ahead acting part" better suited for Krakowski; Fey said she and Dratch "were both very excited about this new direction."[31] Dratch appeared in eleven first season episodes. Shortly following the casting of McBrayer and Dratch, Alec Baldwin was cast as Jack Donaghy, the "totally uncensored" Vice President of Development for NBC/GE/Universal/Kmart.[32] Judah Friedlander was later cast as the staff writer of The Girlie Show, Frank Rossitano.[33] Finally Scott Adsit was cast as Pete Hornberger, a long time friend of Liz's and producer of The Girlie Show.[34]
Season synopses
Edit
Season one
Edit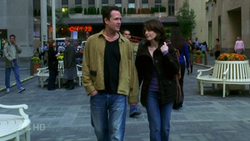 Season one began airing in the United States on October 11, 2006[2] and featured 21 episodes. The season finalé aired on April 26, 2007.[35] When Jack Donaghy, the "Head of East Coast Television and Microwave Oven Programming" at General Electric (GE), is transferred to work at the NBC headquarters, 30 Rockefeller Plaza, and retool the late night sketch comedy series The Girlie Show, outrage storms through the show's cast and crew, especially among the head writer, Liz Lemon, and the main actress, Jenna Maroney. Jack proceeds to wreak havoc on The Girlie Show, forcing Liz to hire the off-the-wall movie star Tracy Jordan, and then again angering the cast and crew of The Girlie Show when he changes the name to TGS with Tracy Jordan (or just TGS). As the season progresses, the episodes become less about TGS and more about how the characters deal with juggling their lives and their jobs--specifically the protagonist, Liz Lemon, but other characters are also explored. Episodes also become less self contained and various story arcs develop in the second half of the season. For example, the first major story arc centers on Liz's relationship with Dennis Duffy (Dean Winters), "The Beeper King." Other story arcs include: Jenna promoting her movie The Rural Juror; Tracy going on the run from The Black Crusaders; Jack's engagement, which was eventually called off, to a Christie's auctioneer named Phoebe (Emily Mortimer); and another relationship of Liz's with Floyd (Jason Sudeikis).
Season two
Edit
Season two began airing in the United States on October 4, 2007[3] and featured 15 episodes.[36] The second season was originally intended to consist of 22 episodes but the order was cut to 15 due to the 2007–2008 Writers Guild of America strike,[36][37] The season finalé aired on May 8, 2008.[36] As Liz broke up with Floyd during the summer, she is looking for ways to rebound and when Jerry Seinfeld confronts Jack, about a new marketing campaign which featured Seinfeld in all NBC shows, a chance encounter with Liz gets the much needed advice she needs. Also during the TGS summer hiatus, Jenna becomes obese due to performing in the broadway show Mystic Pizza: The Musical and with the help of Kenneth, loses the weight. Tracy has encountered some marital problems with his wife Angie Jordan (Sherri Shepherd) and they become separated, but later reunite. During the season, Jack develops a relationship with a Democratic congresswoman named Celeste "C.C." Cunningham (Edie Falco). They later break up. An arc that was established in the first season but becomes more apparent in the second is regarding Jack running for the GE chairmanship against his archnemesis Devon Banks (Will Arnett). The season ends with Liz planning to adopt a child after believing she was pregnant with Dennis' baby. Kenneth also travels to Beijing to be a page at the 2008 Summer Olympics and Tracy invents a pornographic video game. Jack ends the season working at a new government job in Washington, D.C., but plans to get fired.
Season three
Edit
30 Rock returned with a third season as part of NBC's fall schedule, airing immediately after The Office.This season was proclaimed as the show's best season, especially after Tina Fey's highly praised performance as Sarah Palin on SNL. Her performance increased the ratings of both SNL and 30 Rock. This is also the season where the show made Emmy history, being nominated for 22 Emmy awards. The season consisted of 22 episodes Oprah Winfrey guest starred in the second episode, playing herself, as well as Jennifer Aniston playing Liz's ex roommate. Salma Hayek also appeared for a multi-episode arc, portraying Jack's new girlfriend, Elisa. Other guest stars this season included John Lithgow, Megan Mullally and Steve Martin. Jon Hamm played Liz's love interest and neighbor for several episodes. Alan Alda appeared in the season's final two episodes as Milton Greene, Jack's biological father. The season finale featured multiple musical guests, including Talib Kweli, Michael McDonald, Norah Jones, Steve Earle, Clay Aiken, the Beastie Boys, Mary J. Blige, Elvis Costello, Sheryl Crow, Rhett Miller, Cyndi Lauper, Adam Levine, Sara Bareilles, Wyclef Jean, and Rachael Yamagata, performing "Kidney Now!", an organ donation drive spoof of We Are The World and "Just Stand Up!"
Season four
Edit
The fourth season of 30 Rock premiered on October 15, 2009. Like the previous season 3, it also consisted of 22 episodes. A recurring story arc early in the season revolved around Jack's request that Liz cast a new actor for TGS, and Liz's subsequent search for the perfect comedian, much to the dismay of Jenna and Tracy, who fear losing their spotlight. The later half of the season focused on two complementary story arcs: Jack's inability to choose between two mistresses, and Liz's inability to find a boyfriend to live up to her expectations. The season has also featured such guest stars as Julianne Moore, Jon Bon Jovi, Elizabeth Banks, Michael Sheen, Matt Damon, Will Ferrell, and James Franco.
Season five
Edit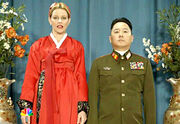 On March 5, 2010, NBC announced 30 Rock had been renewed for a fifth season, which is set to air in the 2010–2011 TV season. The season airs on the Thursday 8:30 p.m. time slot and premiered on September 23.[38]
On July 31, 2010, NBC announced that an episode of 30 Rock's fifth season would be filmed and broadcast live, twice, on the evening of October 14, 2010. The two separate recordings resulted in a live telecast of the episode to American viewers in both the West and East Coast, to ensure both would view a live performance. Filmed in front of a live audience, the episode aired at 8:30PM EDT and PDT on NBC. A ratings success, the episode was also met with positive reviews.[39][39][40][41]
On November 15, 2010, NBC announced that 30 Rock would be moving to 10/9c starting January 20.[42]
Season 5 focuses on Liz Lemon's continuing relationship with Carol Burnett (Matt Damon), Jack's start into fatherhood with fiancée Avery (Elizabeth Banks), Tracy's foray into getting an EGOT, and Kenneth's attempt to get back to NBC. Aside from featuring the return of Rachel Dratch in the Live Show, other guest stars include Matt Damon, Elizabeth Banks, Paul Giamatti, Sherri Shepherd, Queen Latifah, Rob Reiner, John Amos, Jon Hamm, Julia Louis-Dreyfus, Bill Hader, Chris Parnell, Kelsey Grammer, Buck Henry, David Gregory, John Slattery, Daniel Sunjata, Will Forte, Kelly Coffield Park, Elaine Stritch, Alan Alda, Cheyenne Jackson, Robert De Niro, Dean Winters, Ken Howard, Vanessa Minnillo, Brian Williams, Richard Belzer, Ice-T, John Cho, Eion Bailey, and Adriane Lenox.
Season six
Edit
On November 15, 2010, NBC announced 30 Rock had been renewed for a sixth season, which is set to air in the 2011–2012 TV season
Critical reception
Edit
30 Rock has been well received by critics but has struggled to attract viewers.[43] Robert Abele of LA Weekly declared that the show was "A weirdly appropriate and hilarious symbol of our times."[44] The Wall Street Journal's Dorothy Rabinowitz wrote that "The standard caution is relevant - debut episodes tend to be highly polished. All the more reason to enjoy the hilarious scenes and fine ensemble cast here."[45] Some less favorable reviews were received from Brian Lowry of Variety. Lowry said that "Despite her success with "Mean Girls," [Tina] Fey mostly hits too-familiar notes in the pilot. Moreover, she's a limited protagonist, which is problematic."[46] Criticism was also received from Maureen Ryan of the Chicago Tribune, who said that "30 Rock is less than the sum of its parts, and, as an entry in the single-camera comedy sweepstakes, it fails to show either the inspired inventiveness of Arrested Development or provide the surprisingly perceptive character studies of The Office."[47] Metacritic gave the pilot episode a Metascore—a weighted average based on the impressions of a select thirty-one critical reviews—of 67 out of 100.[48]
At the end of 2006, LA Weekly listed 30 Rock as one of the best "Series of the Year."[49] The show also appeared on similar year end "best of" 2006 lists published by The New York Times,[50] The A.V. Club,[51] The Boston Globe,[52] The Chicago Sun-Times,[52] Entertainment Weekly,[52] The Los Angeles Times,[52] The Miami Herald,[52] People Weekly,[52] and TV Guide.[52] The Associated Press wrote that NBC's "Thursday night comedy block—made up of My Name Is Earl, The Office, Scrubs, and 30 Rock—is consistently the best night of prime time viewing for any network."[53] In 2007, it appeared on The Boston Globe's "best of" list[54] as well as the "best of" lists of The Chicago Sun-Times,[54] The Chicago Tribune,[54] Entertainment Weekly,[54] The Los Angeles Times,[54] New Jersey Star-Ledger,[54] The New York Times,[54] Pittsburgh Post-Gazette,[54] The San Francisco Chronicle,[54] The San Jose Mercury News,[54] TV Guide and USA Today.[54] 30 Rock was named the best series of 2007 by Entertainment Weekly.[54]
Awards and nominations
Edit
Capping its critically successful first season, 30 Rock won the Primetime Emmy Award for Outstanding Comedy Series and Elaine Stritch was awarded an Emmy in September 2007 for her work as a guest actress in "Hiatus."[7] Tina Fey and Alec Baldwin were nominated in the Outstanding Lead Actress and Outstanding Lead Actor in a comedy series categories respectively.[55] "Jack-Tor" and "Tracy Does Conan" were both nominated in the category of Outstanding Writing for a Comedy Series.[55] The series received four Creative Arts Emmy Awards.[55] Alec Baldwin received the Golden Globe Award for Best Performance by an Actor in a Television Series - Comedy or Musical in 2007.[56] Baldwin also received the Screen Actors Guild Award for Outstanding Performance by a Male Actor in a Comedy Series in 2007.[57] The series also received various other guild award nominations during its first season.[58] In 2008, Tina Fey won the Golden Globe Award for Best Performance by an Actress in a Television Series - Comedy or Musical.[59] That year, the series also received a nomination for Best Television Series - Comedy or Musical.[59] Fey and Baldwin both won Screen Actors Guild Awards in 2008.[60] The series took home the Writers Guild of America Award for Best Comedy Series in 2008.[8] Later, the series was honoured with a prestigious Peabody Award.[10] Upon receiving the award, it was noted that "Tina Fey's creation is not only a great workplace comedy in the tradition of The Mary Tyler Moore Show, complete with fresh, indelible secondary characters, but also a sly, gleeful satire of corporate media, especially the network that airs it."[61]
In 2008, for its second season, 30 Rock won Emmys for acting (namely, for Tina Fey, Alec Baldwin and Tim Conway), for writing (specifically, for Tina Fey for the episode "Cooter"), for casting, and for Outstanding Comedy Series once again, making it the first show since Frasier to win the award for a second consecutive time.
In 2009, Fey and Baldwin each won their second Golden Globes for acting on 30 Rock and the series won the Golden Globe for best comedy or musical.